My father, the World Record holder
Posted on: 3 June 2007
By:

Amanda Fritz
My father is 80 years young today. His given name is Richard Maxwell Jones - he goes by Max, or R.M. Jones. Born in 1927 to a working family in Birmingham, he won scholarships to attend private boarding schools in England. After war was declared in 1939, his school was evacated to the more rural Eton Harrow, where he sat at desks carved with graffiti inscribed by famous poets and politicians of previous centuries. He said he and all his friends assumed they would join the armed forces, as a matter of course, when they were old enough. "No question, that was what we would all do." Instead, the war ended, and he studied Mechanical Engineering at Cambridge from 1945 to 1948. He and my mother married in 1953, and raised my older brother, younger sister, and me in Leeds, Yorkshire. We're all together celebrating his birthday today.
My father ran cross-country at school and for Cambridge. In his list of running achievements compiled in 2000, he notes he beat Roger Bannister of first-four-minute-mile fame, who was on Oxford's team. It's been fun over the years to drop an airy, "Oh yes, my dad was quite good - he beat Roger Bannister" into conversations, leaving out the minor detail of the event being cross-country rather than the mile on the track.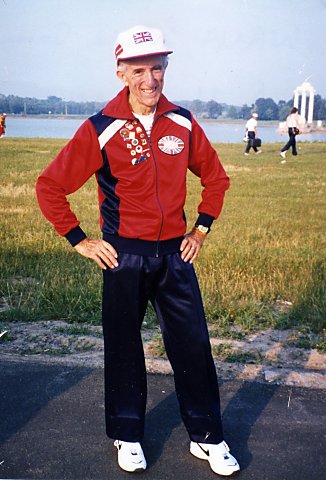 Max Jones at the World Veterans Games, Buffalo, NY, 1995.
Marathon Silver Medalist, individual and team, Men 65+.
Photographer unknown
My dad worked 9-5 jobs at the Yorkshire Copper Works his entire working life. He co-invented copper brake linings for cars, a breakthrough in safety at the time because Steel Rusts (long story skipped). He picked up running in 1981, to run the inaugural London Marathon organized by Chris Brasher, one of his Cambridge team-mates. Since then, he's run 87 marathons and 22 Ultra-marathons (even longer races). His fastest ever marathon time was 2 hours, 57 minutes, 6 seconds, in June of 1986 at age 59. Eat it, Lance Armstrong! (2h:59m:36s) He won the Boston marathon in the over 60 age group in April 1989 in 3:03:46, and 6 days later completed the London Marathon in 3:09:29. He's run the Portland Marathon four times, winning his age category every time.
Before I go on, the answer to the question you may be thinking is no, I don't run. Occasionally to catch the bus, but not always even then.
My father ran 118 miles, 1220 yards in 24 hours in August 1997, setting multiple World Records for 70 year-old men along the way. Yes, that's 118 miles in one 24 hours, pretty much without stopping. The following month, he set World Records for 70 year old men for 50km (4:16:12); 40 miles (5:49:50); and 50 miles (7:34:32). Yep, he ran 50 miles in just over seven and a half hours. He currently holds eight age-group World Records, including three set in Portland - the Men age 70-74 records at 50k, 40 miles and 50 miles, set on Lincoln High's track in the 1997 Megan's Run. I helped with the support team on that run. I thought I was going to watch my father die, as he ended collapsing from a nasty combination of dehydration/overhydration. My family and I have long since decided that if he does die in a race or while training, it will be doing something he loves. The only accommodation I persuaded him to take is to wear a Medic-Alert bracelet to inform emergency responders that his resting pulse is around 40, due to all the training. At OHSU, the doctors want to be called if anyone's heart rate goes below 60.
On his 80th birthday, my father still holds the World Record for 65 year-old men running 50 miles, at 6h:51m:22s, and seven M70 World Records. He's pumped about starting a new age group, even though as he says, "All runners are either injured or severely injured" - he's been slowed by a persistent Achilles tendon problem. And he'd be the first to tell you I can't write up a brag post about him without mentioning his good friend, Oregonian John Keston, who is a couple of years older and holds age group world records in sprints of 1500m/mile as well as in longer distance running. I hope the two of them will be vying for the Men 100+ records in a couple of decades. In fact, apparently there are no marathon world records for men over 93, so the two of them can have at it relatively soon. I'll be sitting on the sidewalk, cheering.